What it is, and Why is it Important?
A certificate of insurance (COI) is a document from an insurer to show you have business insurance. This is also known as a proof of insurance or a certificate of liability insurance. Your clients can confirm that you have the appropriate insurance with a COI before they begin working with you.
It encompasses a complete snapshot of the policy on a single form, including the most pertinent aspects, such as:
Producer
Policyholder's Name
Policy Effective & Expiration Dates
Type of Coverage
Policy Limits
Policy Carrier
Without a COI, a business or contractor will have trouble finding clients because most employers won't want to take on the risk of any costs the provider or contractor might experience.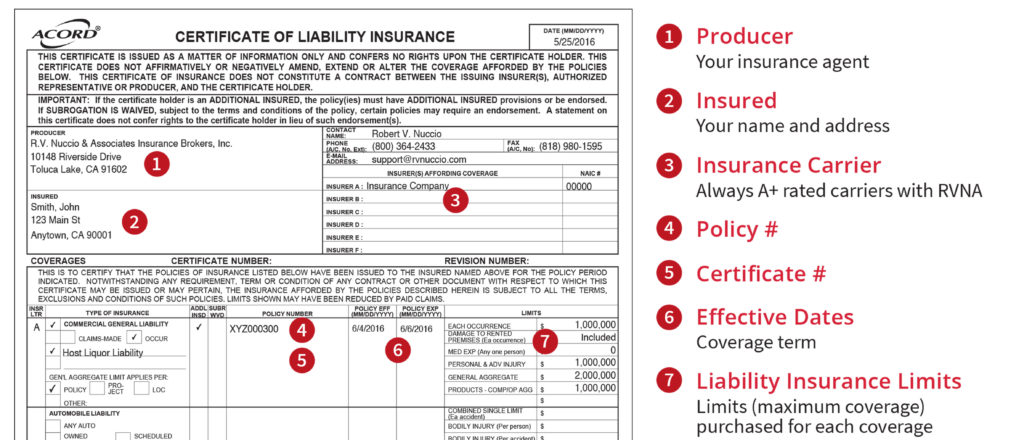 Understanding Certificates of Insurance (COI)
COIs are utilized when liability and severe losses are a worry and are necessary, which occurs in the majority of corporate environments. What is the purpose of an insurance certificate? Small-business owners and contractors frequently have a COI that protects them from liability for accidents or injuries that happen on the job. A liability insurance policy will typically result in the issue of an insurance certificate.
A business owner or contractor can find it challenging to get contracts without a COI. Because many businesses and people utilize contractors, it is important for clients to be aware that a business owner or contractor is covered by liability insurance so that they won't be held liable for any damage, injuries, or subpar work.
How to Get a Certificate of Insurance
If you are asking a contractor or business for a COI, they should be able to either retrieve it from their insurance provider or give you the number of their insurance provider so you can ask for that proof to be given to you directly. If you request a COI from your vendor, you should exercise caution. There are instances of contractors submitting false COIs that have been reported. Some states may also let businesses use an electronic version or insurance ID cards to prove they have insurance. It's a good idea to make sure you know what's acceptable in your state.
If you're an existing or new business insurance policyholder with Beitler Elite Insurance Group, requesting a certificate of insurance is easy. Just phone us at 254-799-9616 and you'll get your Certificate instantly.
Who Needs a Certificate of Insurance?
Simply put, you should request a proof of insurance from every independent contractor or company you hire to do services on your property. A COI is necessary if you are a contractor or business owner so that you can demonstrate to your clients that you are, in fact, insured.